FOR MORE GREAT SMARTPHONES, CLICK HERE.
Ever since Microsoft announced Windows Phone 8 (WP8) way back in June, we've been looking forward to getting our hands on the first WP8-running device. That moment has arrived courtesy of HTC's Windows Phone 8X, but is it a match for the firm's Android flagship - the HTC One X, or for that matter any of its iOS and Android rivals?

Just like its WP8 stablemates (Samsung ATIV S and Nokia Lumia 920) the 8x is powered by a dual-core 1.5 GHz Qualcomm S4 processor, since Redmond's OS now supports multi-core processors (up to 64 cores in fact).

With the assistance of the phone's 1 GB of RAM, this CPU keeps things smooth and snappy whilst navigating the OS, opening, running and closing apps. This bump in performance thanks to the dual-core CPU was further highlighted by the 8X's WP Bench score of 234.34, compared to the previous generation of Windows Phone OS devices like the Lumia 900 that only managed to score 92.

Though the under-the-hood specs may be matched by its WP8 rivals, the 8X does boast a couple of features setting it apart from the rest of the Redmond-powered crop.

Beats Audio and design

Beats Audio integration is only present on HTC's WP8 (and some Android) operating devices, helping the 8X deliver a much more audible music listening experience. The sound quality and volume boost Beats Audio provides really came into its own when we connected the pair of Beats tour in-ear headphones HTC sent along with the 8X review unit. Even when we connected a stock standard headset, the significantly increased volumes was still present, though the sound quality did not really receive the same boost.

Within a smartphone line-up, you may find it difficult to distinguish between a Lumia 820 smartphone and the 8X when looking at them from the front as both sport black face covers with a coloured bezel on the edges. The centrepiece of the front design is the phone's responsive 4.3" (720 x 1280; 342 ppi pixel density) Super LCD capacitive touchscreen, which displays crisp and clear images and video. HTC kitted this display out with optical lamination to reduce reflections and glare from direct sunlight, and although this screen fares better than most outdoors it is not as good as Nokia's ClearBlack technology yet.

We also feel the 4.3" touchscreen size is slightly better suited for daily use compared to the larger 4.8" HD Super AMOLED (720 x 1280 pixels; 306 ppi) display found on the Samsung ATIV S. However, some users might love the bigger display of the Samsung when it comes to media consumption and web browsing, so we recommend trying out both devices in store to see which is more suited to your needs.

The back of the 8X is definitely a much more appealing design element than the smartphone's front as its eye-catching derriere is curved and sports a soft-touch finish making it feel extremely comfortable in hand and barely noticeable within your jeans pocket. This smartphone is a lot more grip-friendly than the Nokia Lumia 920, as it is noticeably lighter (130 g vs 185 g) and not as wide (66.2 mm vs 70.8 mm) as Espoo's range topping Lumia smartphone.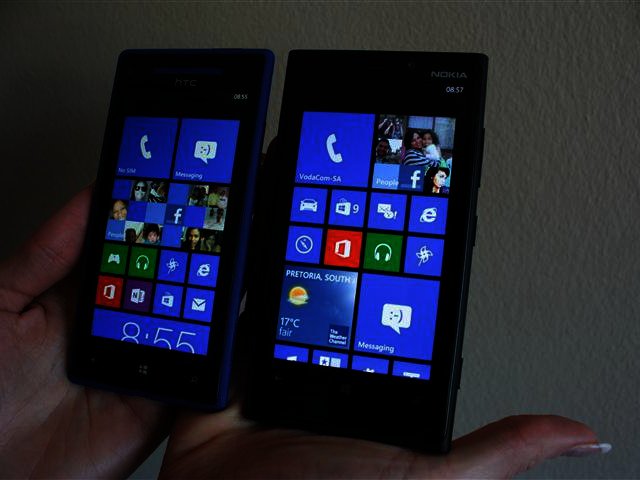 The 8X (left) feels a lot more comfortable to hold than the Lumia 920 (right).
One restrictive element is the placement of the power/lock button at the top of the smartphone. It's less comfortable to reach than those placed on the side, plus it protrudes only slightly making it difficult to press. It is also worth noting that the 8X's 1800 mAh is non-removable (just like the One X), so the battery cannot be swapped out for a spare when it runs.

Battery life and cameras

Luckily the 8X will put in a full working day's worth of battery life, even if you are constantly connected to the work or home Wi-Fi network.

Although the 8X's battery life might be rather average, its new 2.1 MP front-facing camera with 88° ultra-wide angle lens is anything but, helping to set the smartphone apart. This camera allows users to turn self-portrait shots into group portraits as up to four people are able to squeeze in for a single photo.

At the back you will find an 8 megapixel autofocus snapper with LED flash that captures excellent looking stills and lag-free full HD (1080p) videos. It is also the quickest camera on a Windows Phone OS smartphone we've tested thus far, with virtually no shutter lag when snapping photos. Unfortunately, users do not have access to HTC's brilliant photo features found on some of its Android devices, including burst shot or taking stills whilst recording videos.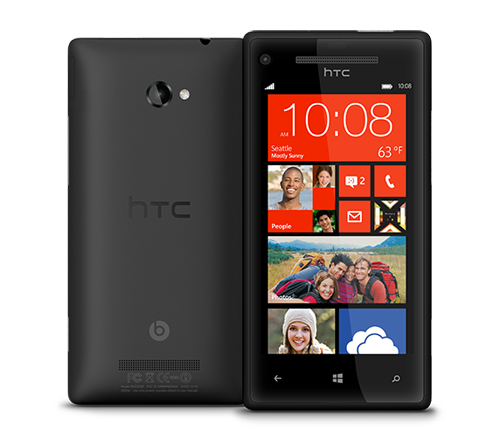 You can find an innovative 2.1 MP snapper with ultra-wide angle lens at the front and quick-on-the-draw 8 MP camera at the back.
App differentiators and app-appetite still unfulfilled

In fact, HTC has not included such a varied selection of apps compared to Nokia's Lumia devices for instance which counts Nokia Drive, Camera Extras, City Lens and Mix Radio amongst its selection offered. You only get a photo enhancer app that enables users to add a selection of filters to your photos ranging from auto enhance through to vintage; an HTC lock screen with Sense-inspired weather animations; and HTC hub which aggregates your weather info, stock and news subscription info within a single location.

The Windows Phone 8X does not offer Nokia Maps as expected, but still makes use of Bing Maps. Bing Maps works well enough since it offers turn-by-turn navigation along with local traffic information, highlighting heavily congested roads in red, and uncongested streets in green. Unfortunately, the 8X is not able to replace your standalone GPS unit as it lacks vocal guidance for the turn-by-turn navigation.

Customising the look and feel of WP8

WP8 boast the same look and feel of Windows Phone 7.5 (Mango), as it features the familiar Live Tiles that show info such as the weather forecast for your area, without you even having to open the weather app. The main difference from Mango though is the that these tiles can now be resized with a small, medium and large tile size available, enabling users to add an extra layer of customisation that was lacking within WP7.5's Start screen.

This added layer of personalisation bleeds through to the lock screen, with users now able to select which quick status notifications are displayed the likes of SMSs received, missed calls, Facebook notifications etc.

You still can't add a wallpaper to WP8 though, and instead have to make do with choosing the background theme (either black or white) and accent colour, which makes an appearance throughout the OS as the colour of most of the live tiles and messaging interface for instance. In terms of personalisation WP8 sits halfway between iOS (very little customisation) and Android (heavily customisable).

When it comes to apps, Microsoft replaced the Windows App Marketplace with the Windows Phone Store, which sports more than 120 000 applications. This is still some ways away from the 700 000+ tallies of Apple's App Store and Google Play. Unlike with the Mango-running devices, you will not miss most of the big app drawcards, the likes of Angry Birds Space, WhatsApp, Viber, and Angry Birds Star Wars, as these do feature within the WP Store. Not all of the top tier apps are there though, as users will certainly note the absence of Instagram.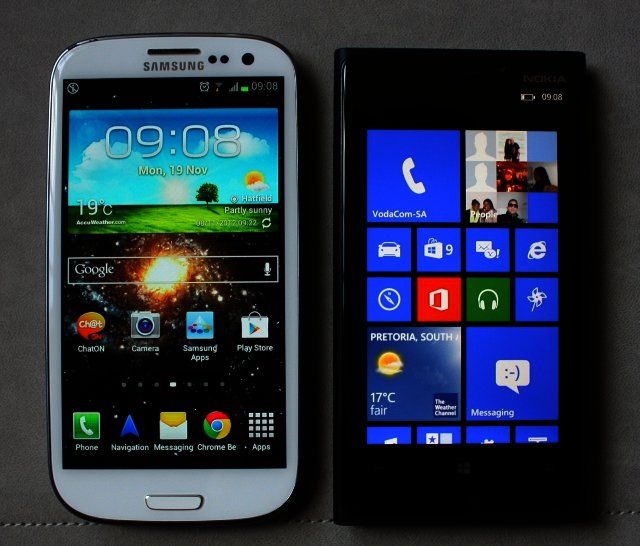 You'll find a much larger app selection via Google Play on devices like the Galaxy S3 (left) compared to the Windows Phone Store on the 8X (right).
Other features

All your downloaded apps and multimedia content can be stored on the 8X as it features a solid 16 GB worth of internal storage, with only 14.5 GB of this user accessible. Even though WP8 does support expandable storage, the 8X is not equipped with a microSD memory card, so you cannot expand upon the internal storage, much like HTC's One X.

Wi-Fi 802.11 n is included and as with the Mango devices you do have the convenient option to share an internet connection with other devices via Wi-Fi hotspot, although it does tend to adversely affect battery life (the case in most instances). Bluetooth 3.1 is also onboard, as is NFC (near field communication) with the ability to tap and share content with other NFC-enabled smartphones.

To the point

HTC's Windows Phone 8X can easily match the best Android handsets, iPhone and WP8 rivals in the avenues of design, performance, optics and mobile OS. However the app selection within the Windows Phone Store is still lacking behind, despite the strides that Microsoft has made in this regard.

With all its stand-out features including the HD-Ready display, Beats Audio enhancements, and quick-on-the-draw camera, we believe there is now far fewer reasons preventing users from upgrading to a Windows Phone OS device.

If you are a fan of WP8 but need a superior selection of apps than the Lumia 920 is a better option thanks to Nokia's larger selection of included applications. Users whose main concern are apps might be better off with an iPhone, Galaxy S3, or HTC One X, otherwise the Windows Phone 8X won't leave you wanting in any other department. It goes for an RRP of R6 700.

Pros:

Gorgeous display.
Eye catching design, most notably the back.
Great camera.
Feels thinner than it actually is.
Beats Audio integration.
Buttery smooth performance thanks to its dual-core CPU and 1 GB RAM.
WP8 a lot more customisable than WP7 and Mango.

Cons:

Windows Phone Store no match for App Store and Google Play for app selection.
Little in the way of differentiating apps from HTC.
Gorgeous display eye catching design, most notably the back great camera. feels thinner than it actually is Beats Audio integration buttery smooth performance thanks to its dual-core CPU and 1 GB RAM as well as WP8 a lot more customisable than WP7 and Man
Windows Phone Store no match for App Store and Google Play for app selection. Little in the way of differentiating apps from HTC.