In the smartphone world consistency is something hard to achieve. Sony is one company which has been able to achieve this, as each flagship Xperia device has proved as good as the previous one.
Consistent performer
The new Xperia Z3 is as solid as they come, bearing all the hallmarks seen in the Z2, and the Z1 before it. Sony has not simply recreated the same formula for the Z3, they've also made some incremental enhancements throughout the smartphone to make it slightly more aluring than its predecessor.
The first change is superficial, with newly rounded edges to the Xperia's unmistakable aluminium frame and glass combination. This gives it a sleeker profile, and bares a certain resemblance to the iPhone 6 in many regards. As with previous iterations, the glass back cover limits tactileness somewhat, and ever so often I felt like the Z3 would slip out my hands. This fear is somewhat lessened by Sony's flagship-standard IP65/68 rated waterproofness and dust resistance (not as exceptional as before since Samsung also started incorporated something similar in the S5). On the display side the Z3 sports the same 5.2" (1920x1080) full HD screen that retains all the clarity and crispness experienced on the Xperia Z2.
Setting the benchmark
Improvements are seen internally too, with a new 2.5 GHz quad-core Qualcomm Snapdragon 801 processor doing the leg work. This is married with 3 GB of RAM, 16 GB of onboard storage (with a microSD slot for up 128 GB) that results in a solid performing smartphone capable of handling any high level multitasking. There's also a 20.7 MP camera taking care of the imaging, which produces crisp images, although the auto focus proved a little slow for quick snapping. PS4 Remote Play is the new gaming feature integrated into the Z3, which is a handy little aid when the living room TV is otherwise occupied, as you can play console game's via the Z3's screen.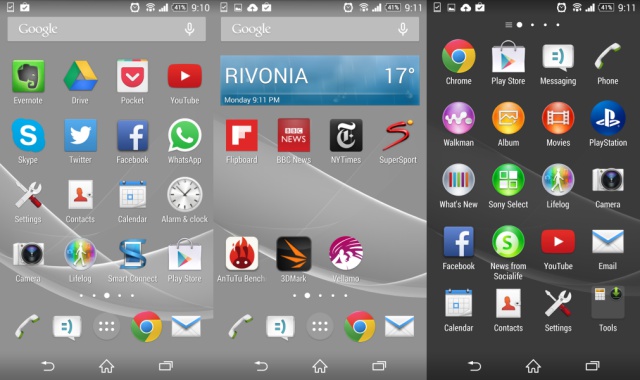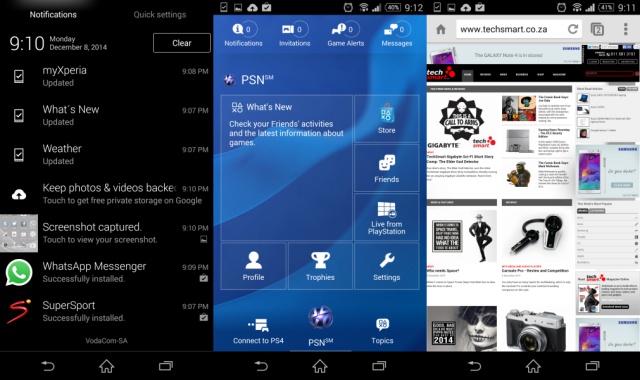 As an all round performer, there is very little fault to find in the Xperia Z3. That being said, the Z2 was equally solid, leaving a lingering question of whether or not upgrading is truly worthwhile. For users still touting the Z2 (review), there is really no need to shell out the R8 500 that the Z3 commands. If however, you're looking to make the move to Android or are unhappy with your current offering, then the Xperia Z3 is highly recommended.
Solid design; Strong all-round performance; Well priced within flagship category
No distinguishable improvement over Z2; new rounded edges makes it less tactile