Namco Bandai has taken more than a decade to deliver the sequel to the original two-on-two, team-based fighting game, Tekken Tag Tournament, but can the progeny fill the class-leading fighting boots of that classic title?

Luckily Tekken Tag Tournament 2's (TTT2) battle is off to a great start, as it boasts a massive playable roster of 50 characters and a lengthy library of fighting moves (more than 100) for each.

Namco went through a lot of effort in making each character feel and fight in their own distinctive manner, as there are very few instances where one character plays virtually the same as another, such as the box-and-wresting loving kangaroo Roger, Jr and his velociraptor-esque counterpart Alex.

What did not receive the same level of attention though are the background storylines behind all these characters, some of which died or went missing during former Tekken titles and now inexplicably find themselves part of the fighting line-up.

For instance, Jin Kazama's final boss battle within TTT2 is against his mother Jun Kazama, who was attacked and killed (apparently not) by Ogre before Tekken 3. However, having almost irrelevant character storylines has been a hallmark feature of the series from the beginning, so it doesn't bug too much.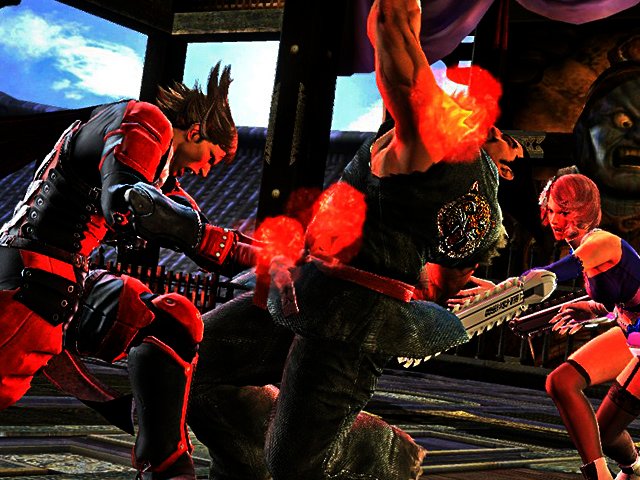 "So that's where my power tools disappeared to!"

Looks good, fights better

Graphically, TTT2 is not only the best looking fighting title in the series, but also the most attractive fighting game. Period.

Sublimely modelled characters, fantastic arenas and a beautiful menu system are complemented by cinematic cut-scenes that punch above their weight. New within TTT2 is the fact that the experience points you earn throughout the game can now be used as virtual currency, allowing you to customise the look of the game's characters by purchasing new clothing items and accessories.

We dig the fact that many of the arenas are dual-stage, meaning that just like in Virtua Fighter, you are able to knock opponents through a railing or even a wall right into another section of the stage.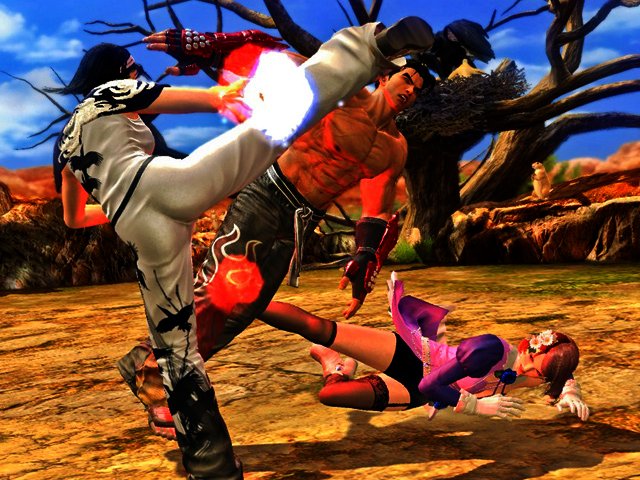 Jin's introduction of his new girlfriend to his mom suddenly took a turn for the worst.

Gameplay a big plus

In terms of gameplay, TTT2 remains extremely accessible for white belt novices due to its pick-up-and-play mechanics (standard Tekken controls), doubling the fighting fun courtesy of its two-on-two premise. It is remarkable how much of a change this makes, as you are able to pick two fighters with totally different styles that compliment each other's weaknesses.

The Tag system now also incorporates Tag Assaults, which involve both of your characters teaming up to perform an attack on an opponent. This mostly consists of Tag Combos and Tag Throws. In the latter, for instance, one character holds the foe's arms behind his back whilst the other runs in to perform a flying kick. In Tag combos you are able to begin a move with one fighter and then press the tag button midway through to switch to your alternate fighter who will then complete the combo.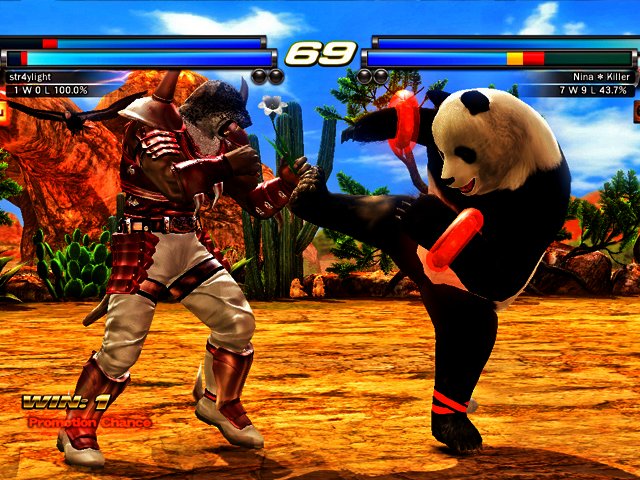 The battle over who is the most popular animal in the Pretoria Zoo got a little out of hand.

Chemistry in the Fight Lab

Experienced Tekken campaigners will be able to use these Tag Assaults to inflict maximum damage to challengers, whilst newbies can employ the Practice- and newly added Fight Lab modes to close the skills gap.

Practice mode is the virtual equivalent of a kata, enabling you to perfect all the moves of your favourite tag team. Fight Lab is more like sparring sessions, which schools amateurs in all the fighting mechanics that make up TTT2, including special moves as well as combos and more importantly, instructs when and how to use these during a fight. They will get to learn these within the story-driven, challenge-based Fight Lab, by stepping into the mechanical boots of Combot, a fighting robot acquired by the flamboyant Lee Chaolan.

To the point

TTT2 is a significant step up from the original game, with the updated graphics, Fighting Lab and new tag moves all playing a role in ensuring that this sequel karate chops all usurpers to the tag team throne.

The game manages to hit that sweet spot of being extremely accessible for white belt novices due to its easy to master pick-up-and-play mechanics, whilst still remaining challenging enough for experienced black belt veterans. A good buy for an RRP of R600.

Pros

Great graphics; superb gameplay; dual-stage fighting arenas; brilliant training modes.

Cons

Storylines of the characters are secondary to everything else.
Great graphics superb gameplay dual-stage fighting arenas brilliant training modes.
Storylines of the characters are secondary to everything else.