Late last year, ATI launched a string of powerful new graphics cards to the masses, the kingpin device being the Radeon HD 5870. Alongside this the company also launched the HD 5770, a powerful new card catering to the budget user, but still with a sizeable chunk of performance.
The HD 5770 GPU falls into the higher end of the mid-range segment, catering to gamers increasing graphical requirements while not completely breaking the bank at a recommended retail price of R1999.
Features
The Sapphire ATI HD 5770 features a 128-bit memory interface but it's not slowed down too much thanks to the speedy 1 GB of GDDR5 memory the card is equipped with. The Radeon HD 5770, codenamed the Juniper XT, uses a 40 nm (nano metre) design process and aims to introduce ATI's state-of-the-art feature set to a more budget-centric card.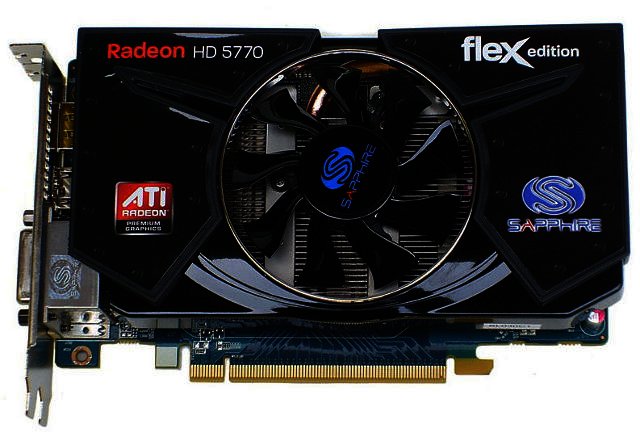 Eyefinity
The two most prominent features on its list are of course ATI's Eyefinity technology and support for DirectX 11. The Eyefinity technology has been given a boost, and is now able to support up to three displays on any one HD 5000 series card, the previous maximum being two.The HD 5770 we tested was also equipped with 'flex' support, enabling it to support one additional monitor, bringing the total up to four.
If users have enough slots on their motherboard, enough spare displays, and enough spare cash to buy multiple cards, they can technically connect up to 12 displays using four HD 5770's, creating a wrap-around display experience that will knock your socks off. We saw this at the recent rAge, and must say it looks very exciting.
Of course, that is probably only something hard-core users or those with a yearning to have the greatest display configuration possible will look into. For average users using Eyefinity, two or three displays should do fine in most situations. The displays can be set as independent, meaning you can watch a movie on one while viewing your desktop on another, or be configured into an overarching meta-display, enabling the image to span over the displays, creating a single larger viewing experience.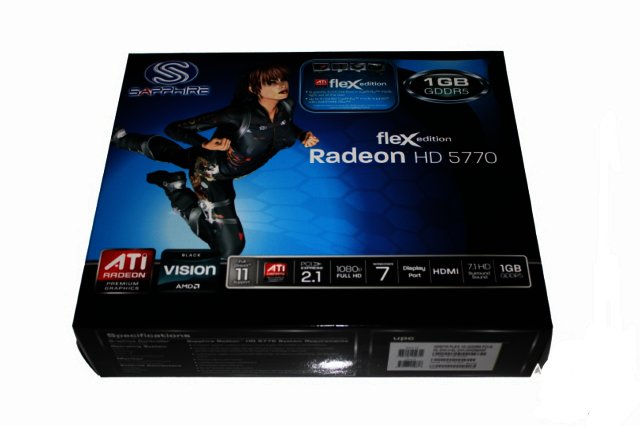 CrossFireX
Like all of the latest ATI cards, the HD 5770 is CrossFireX capable. This means that with the correct motherboard (one featuring enough PCI Express slots), one can connect up to three HD 5770's or other recent Radeon cards (HD 3000 series or higher) in a CrossFireX configuration. The advantages of running multiple GPU's are obvious though they do consume a large amount of power.
On that note, the HD 5770 required one additional PCI-E connector to provide power to the card (included). Instead of simply slotting it in and turning on your rig (like with older cards), this additional power connector needs to be attached first. As far as power consumption is concerned, a 450W PSU (power supply) should be sufficient for running a single card (as most users do).
The card is equipped with a range of new connectors enabling users to enjoy the latest graphical masterpieces, this includes two Dual-Link DVI connectors, a DisplayPort connector and an HDMI connector for high-definition playback.
The card's core clocks in at 850 MHz while the 1 GB of DDR5 memory comes in at 1200 MHz. The card also features support for the latest leaps in the graphical industry, sporting improved tessellation, the UVD engine for HD video playback, OpenGL 3.2 support, ATI Powerplay for reduced energy consumption, ATI Stream acceleration technology and a PCI Express 2.1 x16 bus interface.
Installation
Right, now we know what the card is capable of, so let's take a look at how it actually performed. Firstly, installing the card was an easy process, users simply need to slot the card into any open PCI Express slot on their motherboard, make sure it's stable and secure, connect the PCI-E 6-pin connector to the PSU, start up their rig and install the card's drivers.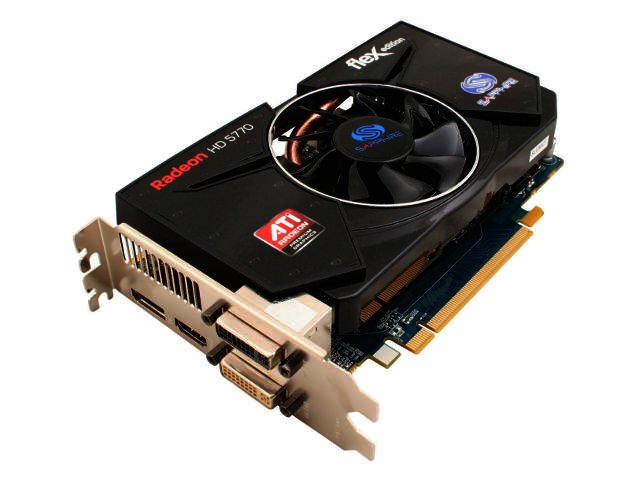 Benchmarking
After the installation, we started the testing process by jumping straight into some benchmarking. The test PC we used was equipped with an Intel Core 2 Quad Q6600 CPU running at 2.4 GHz, a Gigabyte EP43-DS3L motherboard, 4 GB of DDR2 AXE-JET gaming RAM at 1066 MHz and Windows XP 32-bit OS. We used a wide-screen 19" Acer monitor for display purposes.
Before we inserted the HD 5770 our test PC was running an ATI HD 4850 GPU, one of the previous generation ATI cards. During benchmarking our test rig just broke the 10k mark using 3DMark 06, and after we installed the HD 5770 this jumped to 12 731 3D Marks with an SM 2.0 score of 4970, SM 3.0 score of 5934 and CPU score of 3706.
For in-game testing we used the latest version of Fraps, version 3.2.3, to get our in-game frame rates and benchmarking information.
For our gaming benchmarks we tested the card with Call of Duty: Modern Warfare 2 (COD: MW2) and the infamous Crysis, both first person shooter games that can see a lot of action on screen at any one time.
Call of Duty: Modern Warfare 2 may not be the most graphically intensive game around, but due to its popularity and that of the rest of the Call of Duty franchise, we thought it would make a good benchmark. After all, any gamer wants a card that can at least run COD smoothly.
For our Modern Warfare 2 test we amped all the games settings up to the limit, adjusting the texture settings from 'high' to 'extra'. We also decided to use 4x anti-aliasing (AA), the highest mode available in the game and ran it on a 1440 x 900 screen resolution. For doing the actual testing we decided to play the first level of the single player campaign, a mission that sees RPG's whizzing around and intense action raining down on the player from all sides. To our delight, and not entirely unexpected, the HD 5770 performed wonderfully while playing MW2. The card easily broke the important 30 fps (frames per second) barrier, averaging between 55 and 65 fps ensuring great looking and ultra smooth gameplay throughout.
During Crysis benchmarking all settings was switched to 'high' and we used the recommended 2x anti-aliasing. Running on a screen resolution of 1024 x 768 we encountered no problems whatsoever. During cut scenes the frame rate stabilised in the mid 50's, touching the 60 fps mark every now and then. In actual gameplay the HD 5770 averaged between 45 and 50 fps, delivering smooth gameplay with no visible lag once again. The frame rate dipped a little to the lower 40's when we pushed the resolution up to 1440 x 900, but the 5770 still handled it well.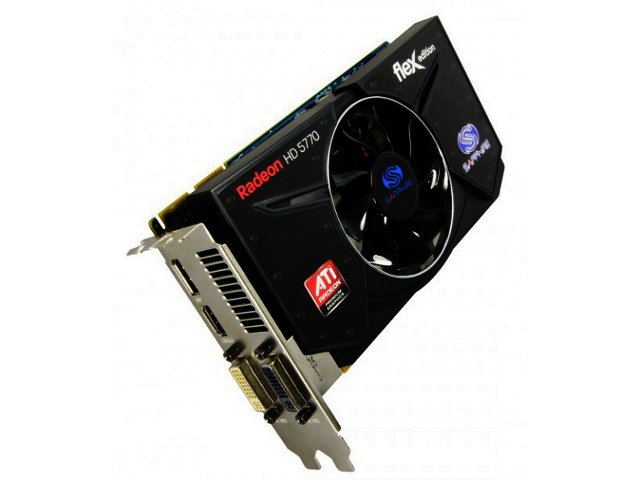 Conclusion
The Sapphire ATI HD 5770 is an all-around powerful GPU which impressed us at every turn. The card operates much quieter than previous Radeon 4000 series cards and all-in-all provides a great upgrade that can easily fit the budget of the average gamer.
And even if you might be lamenting the fact that cards such as the HD 5870 and HD 5970 might be out of your current price range, there is always the option of simply buying an additional 5770 at a later stage and running the cards in CrossFire mode.
This card is the perfect upgrade for the gamer aiming to get a little extra performance boost from their rig. It impressed us so much, we even decided to buy one ourselves. The Sapphire ATI Radeon HD 5770 retails for recommended price of R1999.
With its comprehensive features list that includes Eyefinity and CrossFireX technology, the 5770 has many uses and can make for an easy upgrade later on by just adding another 5770 in CrossFire.
The 128-bit memory interface isn't the fastest available, but it's a very minor inconvenience.