Whereas other Gigabyte gaming notebooks have been beasts, the P35K is a different animal. Like the panther of which it reminds, it too is sleek and seductive and well worth a look.
Like most of the other Gigabyte notebooks that have crossed our path, so too is the P35K a beautiful machine. Absent here is the conspicuous flash of yellow that was present on the P25 (review); instead this notebook is a solid slab of black from top to bottom, with the exception of a solitary silver power button above the keyboard.
However, one similarity that is apparent and welcome, is the same superb build quality that we have become accustomed to from Gigabyte of late. Neither the base nor the screen offered any flex or creaking, while the hinges held the 15.6" screen firmly in place. Like its smaller brother, the P34 (review), the notebook is also part of Gigabyte's ultrablade gaming notebook range, which means that it is both thinner (21 mm) and lighter (2.1 kg) than some other gaming notebooks out there.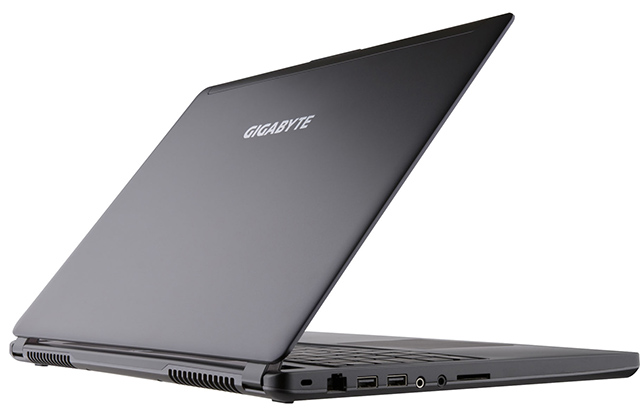 While the P35K may not have all the flashing lights usually found on gaming notebooks, it certainly has the sheer power to serve as one.
No holds barred
That being said, the P35K has certainly not been a victim of compromise, starting with the beautiful, luscious matte screen, which boasts full HD (1920x1080) and deep, rich colours as well as terrific viewing angles. The sound on offer is also amongst the best we have heard on a notebook to date – clear, loud (although it seemed to favour treble rather than bass) and without distortion at the top end. For games and movies this combination of a great screen and terrific sound is a boon.
Moving on though, the P35K also boasts impressive specs as well. Beating beneath the machine's exterior is a 4th gen Core i7 processor (4700HQ) clocked at 2.4 GHz, and accompanied by an extremely healthy serving of 16 GB of DDR3 memory. This translates into fantastic performance across the board, whether gaming or doing other productivity-related tasks.
Much like what we loved about the P25, the notebook similarly boasts the best of both worlds on two fronts. A Nvidia Geforce 765 M (with an equally healthy dollop of 2 GB of memory) graphics card is onboard for when you are gaming, while users can switch over to the Intel HD Graphics 4600 when they want to save power. Storage meanwhile, is catered to via another combination we appreciate - a 128 GB SSD for fast boot ups and a 1 TB hard drive for everything else. Furthermore, those craving more space can swop out the optical drive for an additional hard drive, for which the required bay is included in the box.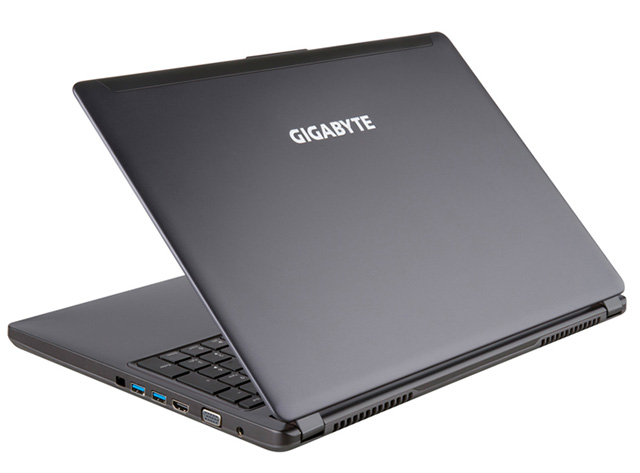 The 15.6" notebook is also quite thin and light, and we foresee no hassles toting it for long stretches.
Achilles heel
A great screen and fast engine are not the only parts of a notebook's puzzle, however. Another critical component is the keyboard and trackpad itself. It was on this front that we some disappointments. The backlit chiclet keyboard, which includes a full numpad, was rather nice, except for the fact that keypresses were considerably shallow than what we prefer.
Although the all important WASD keys receive their own additional square distinguishing them from the rest of the keys, for the most part PC gamers should be aware they don't tactilely stand out from the rest of the keyboard. However, our real problem came from the trackpad, which though highly responsive, was set so level with the palmrest that it was difficult to ascertain by touch alone when your finger actually remains on the pad or ventures off course. Additionally, while the P35K was as quiet as a cat under general tasks, its fans all but roared when under load. Two USB 3.0, two USB 2.0, an HDMI port and an SD card reader round it off.
All issues aside, the P35K is still a lustworthy machine, particularly for those seeking above average gaming and general performance in a sleek package. It has a RRP of R17 400.
Terrific performance, Beautiful screen, Great build quality
Fans loud under load, Shallow keypresses, Trackpad too closely set with the rest of the palmrest