HP has long impressed us with the build quality of their notebooks, and its ultrabook, the Folio 13, is no exception. Granted, there are certainly thinner ultrabooks out there, but not nearly as many that feel so solidly built and well put together.
On the design front, the Folio 13 is attractive enough, if somewhat blocky when compared to some other ultrabooks that are more curvaceous. Nonetheless, its silver and black aesthetic lends it a modern and stylish appearance, that deftly sidestepped appearing plain and instead proved to be pleasantly striking in a somewhat conservative way.
This is befitting its particular emphasis on the enterprise market and business user; although that's not to say that general users won't find a lot to like here as well.
The Folio 13's firm build though, by no means rendered it overly heavy; at 1.5 kg we still found it easy to carry around, hold in our hands and nestle on our lap for long periods without feeling the same degree of burden that we do from conventional notebooks.
As is the case on so many devices, looks aren't all that matters, and we continued to be impressed by the Folio 13's other, more important features.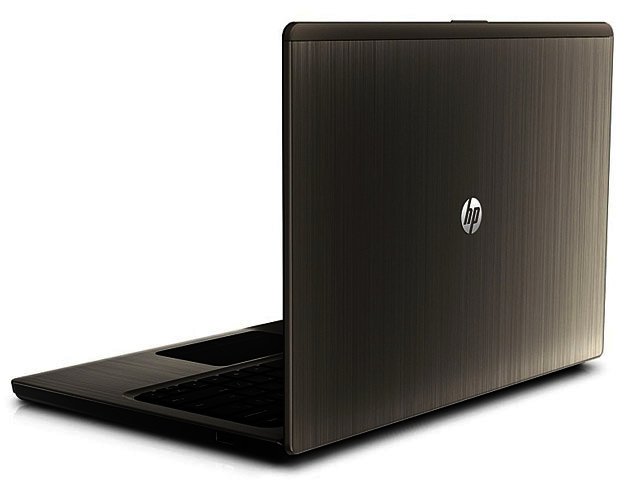 Design-wise, the Folio 13 is a smart and stylish looking ultrabook.
A real performer
The Folio 13 boasts an Intel Core i5 2467M processor, clocked at 1.6 GHz, which, along with its 4 GB of memory, proved to be up to just about everything we could think of that we would typically use an ultrabook for.
Typing, browsing the internet, doing our email, running office applications and watching the occasional YouTube video worked as expected; that is, without a hitch.
Our review unit came with a 128 GB solid state drive (SSD) which accounts for the fast boot-up (at least once you get past the initial set up and Windows rigmarole) which took five seconds from a sleep state and twenty two seconds from being fully powered off until it was ready for work.
Perhaps equally as important for impatient business users on a schedule, we also found that applications launched speedily and we were ready to work within a short amount of time.
Much like Dell's XPS 13 ultrabook, the Core i5 processor continued to impress in our benchmarks. The Folio 13 offered up a very good score of 3460 marks in our 3D Mark 6 benchmark, only slightly behind the XPS 13's score of 3503 marks and surpassing the Lenovo U300s's 3392 marks.
Additionally, this is not too far from the score attained by Asus's Zenbook, which delivered a score of 3681, but had the benefit of the Core i7 processor. It highlights just how efficient the processor HP chose for its ultrabook is, while striking an excellent balance between still offering superb performance and very good value for money.
While we noticed that the Folio 13 got a little bit warm on its base after a while, this never reached unbearable or even uncomfortable levels.
Beefy battery
However, where the Folio 13 really scores is on its battery life. Like the fabled Energiser bunny, it kept 'going and going;' we managed a very decent more than eight and a half hours (closer to the 8 hr 40 minutes mark); and for once, we found ourselves with a power cord that found itself being woefully neglected in the box for long stretches on end. Poor thing.
This, without a doubt is a dealbreaker for the Folio 13, as battery life for ultrabooks in particular can never be too long. As liberating as travelling with a low weight (1.3 -1.5 kg) device can be, there is little point if it cannot endure long bouts of work (and/or play, depending on your predilection).
Even better yet, if you can comfortably and confidently leave the power adapter in your luggage or hotel room, or on short term trips at home altogether, then the ultrabook begins looking immensely appealing to the frequent traveller and starts justifying whatever pricetag may be asked.
While the Folio 13's power adapter isn't as large as many found on larger notebooks, all power adapters add additional weight to the device; something which is seldom factored into a notebook or ultrabook's overall weight.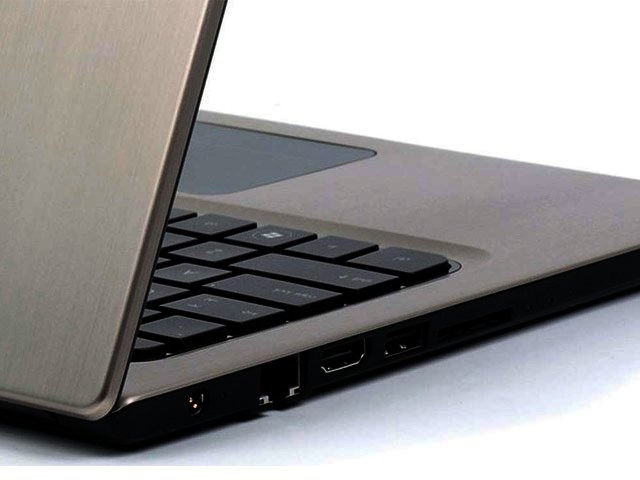 A plethora of ports can be found on the left hand side of the device, including USB 3.0, SD card slot
and an ethernet connection.
OK Display
The 13.3" matte display itself, which offered a maximum resolution of 1366 x 768, was adequate enough if not outstanding. The matte finish meant that distracting reflections were kept well at bay; however, we can't say we were wowed by the default colour saturation or contrast of the screen. It was certainly not terrible by any means, but merely adequate, offering faithful if not brilliant colour reproduction and decent enough overall sharpness and brightness.
Thankfully, we found we could squeeze a bit more vividness from the display using the Intel Graphics advanced settings, and chase away a large amount of the otherwise dullish tint that pervaded the desktop when we first unwrapped the ultrabook.
The display is accompanied by integrated Intel HD graphics 3000; this likewise is sufficient for most uses, although it is not up to intensive gaming. However, this has become par for the course on many ultrabooks, although HP's
upcoming Envy ultrabooks
come equipped with AMD Radeon 7600 series GPUs.
While the screen is an area where there is room for improvement, and admittedly, we cannot wait to see what HP will do with its new
Spectre XP
range, we did get used to it, and it didn't detract from our overall experience of the ultrabook.
Comfy Keyboard
On the keyboard front, and in our opinion it is a considerable one for ultrabooks which are intended for heavy duty bouts of typing, we were particularly impressed. The chiclet keys offered a satisfying balance between depth and springiness in a slightly recessed sink, which made typing a pleasure.
We are also quick to criticize notebook and ultrabook makers for failing to add backlighting to their keyboards, but we couldn't lodge this complaint against the Folio 13. The backlighting illuminates the letters rather than the keys, but it certainly did the job, enabling us to type and work to our heart's content in a darkened room as well as on a plane without needing to resort to the overhead lamp.
Backlighting is switched on and off using one of the function keys, amongst other functions like screen brightness and dimness, volume levels and enabling and disabling wireless are similarly conveniently controlled. These respond to one's first press, meaning that one doesn't need to first press the function key to be able to switch on or off backlighting or adjust the volume, for example.
We were slightly less impressed by the trackpad. While it was easy enough to use, and we liked the seamless integration of the mouse buttons into the bottom of the pad, and the thoughtful separators between the left and right buttons, we did notice some sensitivity falloff on the far right of the trackpad.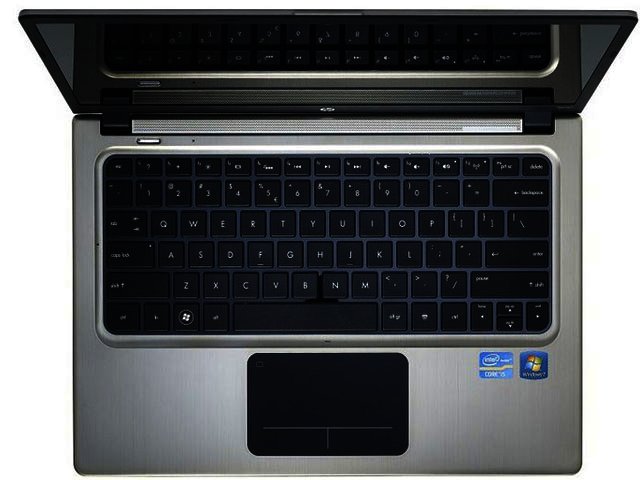 The backlit keyboard proved to be a pleasure to use, with chiclet keys that offered up the
right amount of springiness and depth.
Pleasing surprises
The keyboard though is not the Folio's only strong point; playing a movie on the ultrabook quickly revealed that the sound served up by the Folio 13 is exceptional.
HP has made a concerted effort in recent months to address sound reproduction on notebooks and lift them to a new level; on the Folio 13 ultrabook, they succeed admirably, despite the fact that the ultrabook boasts Dolby rather than Beats Audio.The sound when playing the movie was loud, clear, crisp, and full, without a single trace of distortion at maximum volume, and easily the best aural experiences we've had on an ultrabook to date.
Additionally, we were happy to see that the Folio 13 has not skimped on ports. Onboard is one USB 2.0, one USB 3.0 and one HDMI port, along with an Ethernet port, a headphone jack and an SD card slot, which of late some ultrabooks appear to be sacrificing on the altar of being thinner than the competition.
Surprisingly though, for an business orientated ultrabook, it does not have a fingerprint scanner; or facial recognition unlocking, however, it does have a TPM 1.2 Embedded Security Chip.
To the point
In the final analysis, the Folio 13 does so many things right that it overcomes its few shortcomings, and amounted to a very good machine that is a pleasure to use.
If HP can do for its displays what it has done for onboard sound, and combine that with the excellent build quality, comfy keyboard, excellent battery life and very good performance that the Folio 13 does have, then we suspect they will have a definitive and decisive edge in the ultrabook market.
Quite interestingly, while writing this review, the company announced its
new ultrabooks
and
sleekbooks
that are due for release during the course of the year. Even so, the Folio 13 stands alone as a very good ultrabook in its own right; in fact, we could go as far as to say at present it is ranking in the top three ultrabooks that we have gone hands on with to date. It has a RRP of R13 000.
Pros
Solid construction
Comfortable, backlit keyboard
Plethora of ports
Superb battery life
Cons
Middling screen
Solid construction, Comfortable, backlit keyboard, Plethora of ports, Superb battery life
Middling screen