There are two kinds of gaming keyboards – those that could be likened to 4X4's of the peripheral world, full of heft and heavy duty features, and then there are those keyboards, such as the Parthica Core, which is more like a sportscar.
In appearance, the keyboard is actually reminiscent of one of those fiery red road-huggers you look at enviously from your Toyota Corolla, and wonder whether you could get away with robbing a bank.
It may look like the kind of peripheral built for those who whom a need for speed is not just a game title, but does the Parthica Core gaming keyboard live up to its alluring aesthetic? In a word, yes.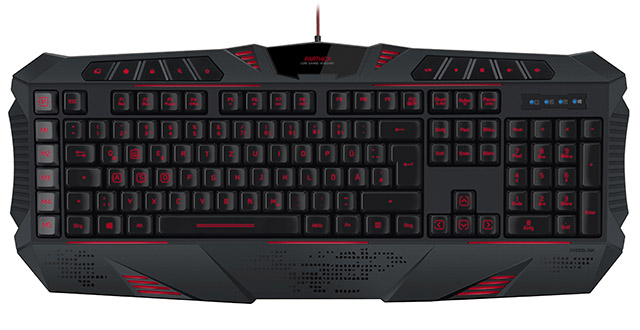 Start your engines
It is most certainly distinctively shaped, with sharp angles, ridges along the side and little touches, such as illuminated vents on the bottom and top of the peripheral. While the Parthica Core is lighter than the Mionix Zibal 60 (review), it's still nonetheless solid and well built, and neither looks, nor feels, cheap despite being made of hard plastic. The keyboard sports a one piece design rather than a detachable palm rest, although even so it's actually quite compact and not demanding of too much space on the desk.
Most important in a keyboard of course is its key depth and responsiveness. While the chiclet keys offer satisfactory depth, and definitely more so than found on a notebook, they are not as deep as the aforementioned Zibal 60. That being said, the keys themselves are very responsive; they seem designed for those who like their key presses like they like their working weeks – fast and without inducing complaints.
However, I did find the key surface a bit small for my liking, perhaps due to their slightly concave surface. Despite this, I didn't find myself inadvertently hitting wrong keys at all, so I would chalk this up to something I could become accustomed to. Worth bearing in mind though is that if you have large to freakishly large fingers, your experience might not be on the same par.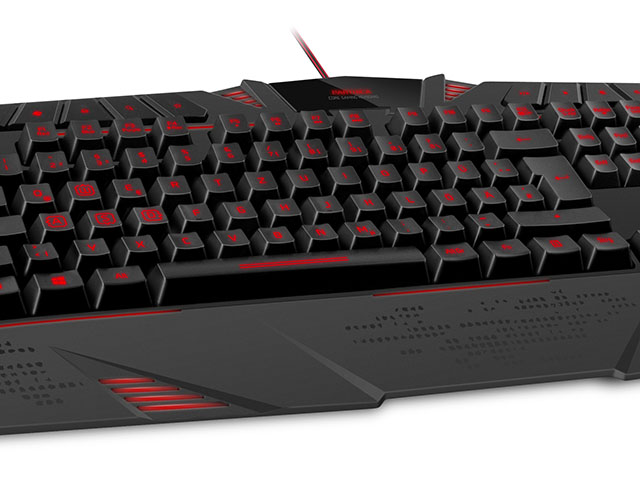 Everything but the kitchen sink
To its credit, the Parthica is packed with features. Not only does it boast dedicated media controls on the top right of the keyboard, it also sports five other dedicated buttons on the top left. These can be used to quickly access your computer, search engine, email, and search your computer with the press of one button, all of which I found to be pretty handy when I was doing other things on my PC than gaming.
Additionally, on the left hand side of the keyboard are five programmable macro keys. It is when you dig beneath the surface though, and install the included Parthica Core gaming keyboard software, that you really see the breath of customisation on offer.
You can create up to five profiles and in each, assign either key commands, macro functions or basic functions to all five of the macro keys. You can also select different lighting effects for the profiles you create, switching them off altogether, choosing a colour and brightness level or opting for a breathing (pulsating) effec). Additionally, you can also then change the colours of the backlighting on the fly by pressing Function and F1 for red, F2 for blue and F3 for purple. Worth mentioning is that blue backlighting was more apparent in a well lit room than red or purple, although in dim lighting, this wasn't of much consequence.
Each of these colour schemes can then be assigned to its own profile, which is certainly a nifty and fast way to access a specific profile without having to dig into the software. What all this adds up to is that the keyboard is extensively customizable, and should you spend a good few hours setting your profiles up the way you like them, you can save them for later retrieval if need be.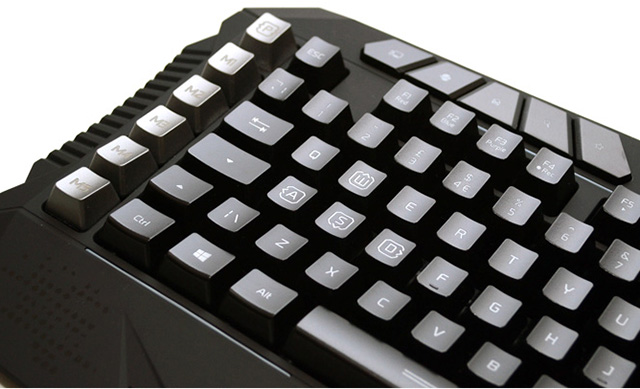 Hits and misses
Incidentally, there is also the option of using the function key to turn off the dedicated Windows key, a boon for those who tend to inadvertently hit this button while playing, and which can take them out of their game.
While the keyboard can't unfortunately boast integrated USB ports, a feature that I like almost as much as great backlighting, at least it only requires one USB port, while its 1.8 m cord is long enough to connect it to one's rig and forget about it. While two small feet on the underside of the keyboard do raise the keyboard up a little, this wasn't quite as high as I would have liked.
Niggles aside, my experience with the Parthica Core keyboard was a very pleasant one, and it is particularly well complemented by the even better Speedlink Decus Gaming mouse (review). I have to hand it to Speedlink, who have done a terrific job here. The Parthica keyboard is light, fast, responsive and ridiculously full featured. Moreover, it won't force you to break the bank to add it to your arsenal; at R560, it's a very good deal for gamers on a budget. Highly recommended. For more information and for links to purchase, visit Syntech.co.za
Plenty of features, Fast and responsive, Lots of customisation options
Backlighting a bit dim, Smallish keys may be a problem for some