Travelling with one's notebook and related gear can be a daunting prospect, as too little protection of one's valuable device can result in expensive damage, but, carrying an inappropriate case for one's needs can be cumbersome and uncomfortable.
Although we have looked at a
few Targus notebook
cases in the past, the latest to cross our path, the Targus Atmosphere TNT 007, may well be our favourite answer to both concerns to date.
As we have become accustomed to with Targus, the Atmosphere oozes quality out every stitch and from every metallic zip. That, however, is not the case's main feature, nor is it what ended up winning us over.
Build quality
The build of the case is familiar, crafted of a tough nylon, it certainly seems strong enough to withstand the rigours of regular travel. While its dimensions (380 mm x 80 mm x 30) make it lean towards the larger end of the spectrum, it's far from gargantuan, as we experienced with
Targus' XXL clamshell notebook case
.
Additionally its 1.6 kg weight (excluding whatever you cram into it) while substantial was still not unmanageable. It looks professional and smart, due to its combination of black and navy blue, which certainly lends it an 'all business' air.
One of the most important, and often overlooked, aspects of a case meant to carry medium to heavy loads is the stitching. On this front, we were very impressed – no loose threads could be detected, despite the fact that the case has multiple compartments. In fact, we had to look very closely to see the stitching at all; which led us to believe that the Atmosphere had been sowed up tight.
While the case is advertised as catering to 15.4 notebooks, we had no problems fitting both our 15.6" thin and light Acer Timeline X and 14" notebooks into it; in fact if we wanted to bear with the additional heft, we could pack them together.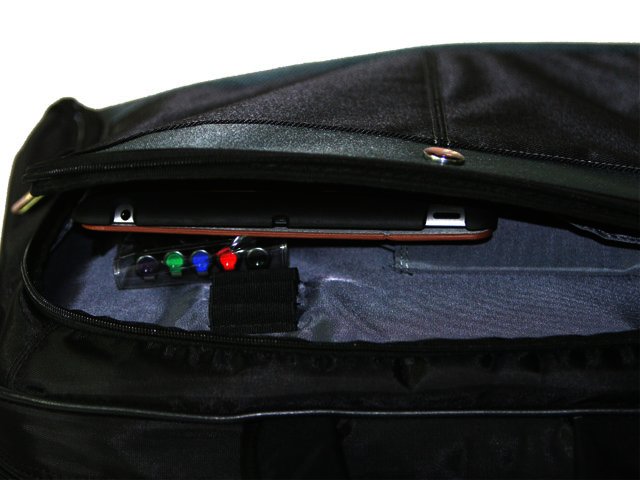 There's plenty of room to pack an iPad and other extras, whether in one of the outer
pockets or the main inner one.
Compartmentalise your life
The main top loading compartment comes with a removable velcro divider which enables one to adjust the compartment to fit smaller notebooks as well, while an additional, built-in sleeve adds further protection.
This gives the main compartment three separate divisions – we were able to place our notebook in one, iPad in the second one, with the third keeping our ereader separate from both our tablet and our notebook, with enough space left over for smaller items or the power cord.
On either side of this main compartment rest two more compartments though. The first of these offers dedicated pouches for three pens, an external hard drive or iPod and a cellphone but it too comfortably accommodated our iPad.
The latter is particularly interesting, as it offers an internal 'sock' of sorts, that enables one to stop the phone from being overtly noticeable when ringing. We could imagine this could come in handy if one forgets to turn off one's phone when going into a meeting or presentation and does not want to be disturbed.
Here, bigger actually is better
The second compartment though was the really interesting one. At its default size, it's roomy enough to accommodate some papers, or an extra shirt or two. Unzipping a section of it though dramatically increases its volume, making it large enough to house a projector, or a more complete change of clothes, including a thick jacket, for those impromptu business trips.
It was this versatility that set the Atmosphere apart for us, and won us over to the notebook case.
Yet another compartment on the exterior of the case easily accommodated an A4 size printed book and could just as easily house a 14" ultrabook.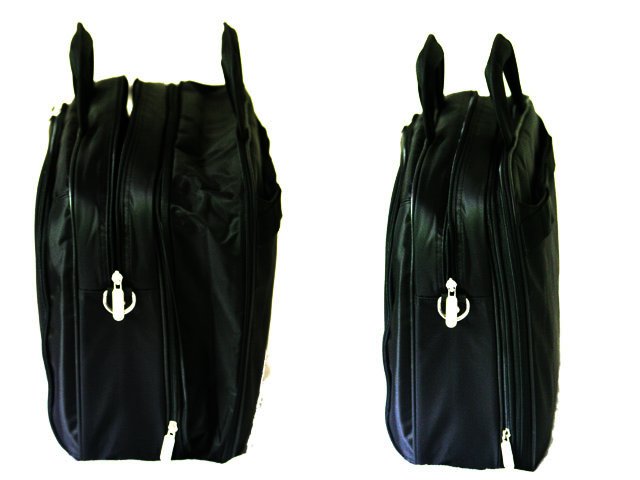 Two profiles of the same case - the image on the left shows the second compartment unzipped
and expanded, while the image on the right shows the case at its normal thickness.
Strap in or Handle it
However, too many very good cases are let down by mediocre handles or straps, which in our view are quite possible one of the most important parts of a case to get right.
This is not an issue on the Targus Atmosphere though. The padded handles are actually a little larger than some other cases we've tested in the past. There's a good reason for this, as it enables one to drape a jacket through them while still leaving enough room secure a comfortable grip.
Additionally, a padded detachable strip is included, for those who prefer to sling the bag across their body or carry it on their shoulder.
Little Touches and Final Thoughts
One little touch that we really appreciated was the inclusion of a decently sized pouch for one's power cord. Although power cords are a necessary evil, at least there's a nifty way to tuck it up and transport it - either in the case itself or in any bag if one so chooses.
In our final analysis though, the Atmosphere proved itself to be up to the rigours of our lifestyle, and we never felt like our valuable gear packed within was in danger of being damaged. Along with a comfortable carrying experience, that is really the crux of what a good notebook case is meant to provide; and the Atmosphere succeeded admirably. It has an RRP of R599.
Pros
Comfortable to carry
Well designed
Superb build quality
Expandable capacity
Cons
A bit on the large side
Quite expensive
Comfortable to carry, Well designed, Superb build quality, Expandable capacity
A bit on the large side, Quite expensive