If your perception of hiking boots conjures associations with big, heavy, uncomfortable clunkers and the kind of boots that could double as cement shoes if you run into trouble with the mafia, then Hi-Tec's V-LITE SpHike offering will make you think again.
While the boots look sturdy and well made, as one would hope from a pair of shoes destined for the outdoors, they are exceptionally light (368 g) on one's feet and exceedingly comfortable.
This became evident to us within the first 30 minutes of wearing them, as we experienced none of the breaking-in pains that have sent lesser shoes to the back of our cupboard over the years. Additionally, walking in them more extensively revealed that the SpHike's offered our ankles more than enough support. This is essential for terrains where you can inadvertently, or too easily slip, causing you to twist an ankle or worse.
These boots were made for walking
However, it goes further than that. We found that the boots also provide our ankles with plenty of support, and our feet with more than enough comfort, to justify slipping into them for a general and full day's work. The bonus here, is that after spending twelve plus hours in them, we never felt that we couldn't wait to free our feet from a rubber or leather prison.
This may have a fair amount to do with the fact that the SpHike's are the first entry in the company's new sport hiking category, making for a more nimble as well as lightweight shoe. To this end, the boot includes a mesh upper, which incidentally also makes it feel as though one's feet are less constrained and have more room to 'breathe'.
Another feature, as indicated by the WP in the shoe's name, is that of waterproofing, which makes striding through streams, brooks, or over wet rocks (our personal favourite) a dry affair.
Additionally, those who have corrective innersoles will be pleased to hear that we had no problem slipping orthotics into the shoes, despite the fact that these innersoles, essential for correcting pronation and keeping plantar fasciitis at bay, were originally custom made for a hiking shoe by another brand.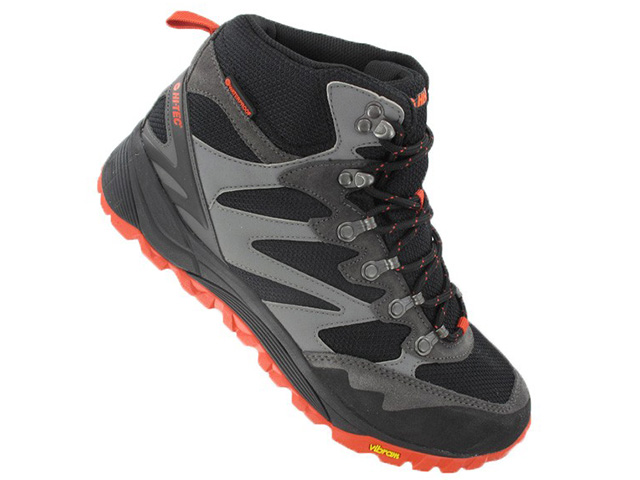 The shoes, which are light on one's feet, certainly look smart, as well as though they have been designed for active users.
And that's what they're going to do
Another detail where the SpHike's won us over was in the shoelace grips. These may be a small aspect of the shoes, but if a manufacturer gets it wrong, it can be one of the most frustrating and annoying parts of a hiking boot as well.
If they are too large, you end up with laces that constantly unravel and require far too much attention. After the umpteenth time of this happening, it becomes a true test of will not to throw the shoes in question off the nearest cliff.
On the SpHike though, this was not an issue at all – the grips were small enough and tight enough to hold our shoelaces in place, irrespective of how much we traipsed and lightly ran during the course of a day.
One of these days…
On a hiking boot in particular the upper section is only part of the story. No less important is the magic that happens on the outsoles. Here, you can expect to find Vibram rubber, and, in our use, much as the company asserted, excellent traction across a variety of surfaces.
Additionally Hi-Tec has seen fit to add Liquid Rubber to the toe and heel of the shoe, and thus it feels like you quite literally have protection from the front of your foot to its back. This is something that someone who has ever inadvertently stubbed their toe while walking on a trail will no doubt appreciate.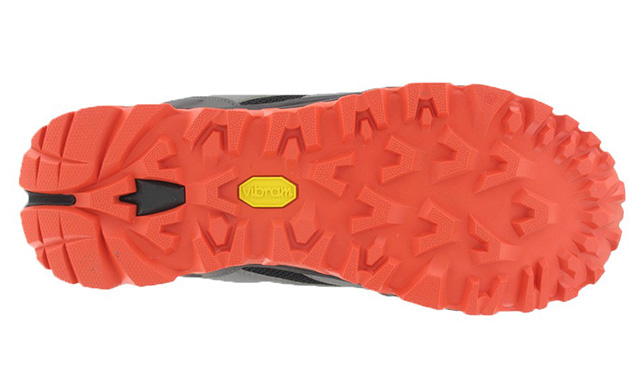 We found that the boot's outsoles, made of Vibram rubber, afforded a reassuringly very good traction on a variety of surfaces.
These boots could walk away with you
Finally, the shoes also scored on the appearance and style front as well. Tastefully applied combinations of grey and black grace the majority of the boot, while the dark orange/light red soles lend them a sporty air. The only problem we were faced, at least as a reviewer, was actually finding something not to like here.
If we had to nitpick, the shoe may have fitted in a bit more in a more conservative environment had the Vibram sole been a more muted colour, although, as this is a sport hiking shoe, it's not intended to conform to corporate or boardroom regulations.
While it could be pointed out that these could not compete with heavier snowshoes for coping with exceedingly inclement weather, for example, nor are they meant to. Even the price – a fairly expensive R1 200 – is not unreasonable for what is on offer here.
To the point
Ultimately, we were particularly impressed with this hiking boot, both with the comfort and traction it afforded, as well as the all-important support. To our minds, it's an easy recommendation for those who want a boot that can keep up with their weekend outdoor demands, while also being comfortable enough to wear during the course of the week as well.
Exceedingly comfortable, Light for a hiking boot, Excellent ankle support, Great traction
Pricey, Orange sole lends them sportier rather than conservative styling