Some of the most imminently useful gadgets are also the simplest, at least in appearance. Case in point: the Powerchimp 4A dual purpose charger.
First off, as we have come to know (and appreciate) from the Powerchimp range of products, these are dedicated to ensuring that users have power on hand in a variety of situations and circumstances. This is not a bad mission to have, considering the fact that even the best electronic device is little more than an expensive paperweight when it runs out of juice.
In the Powerchimp 4A's case, it serves two purposes: recharging both rechargeable AA (penlight) or AAA batteries, and also using these to charge up a small device such as an iPod, smartphone or GPS and other devices which accommodate a 5 V charge.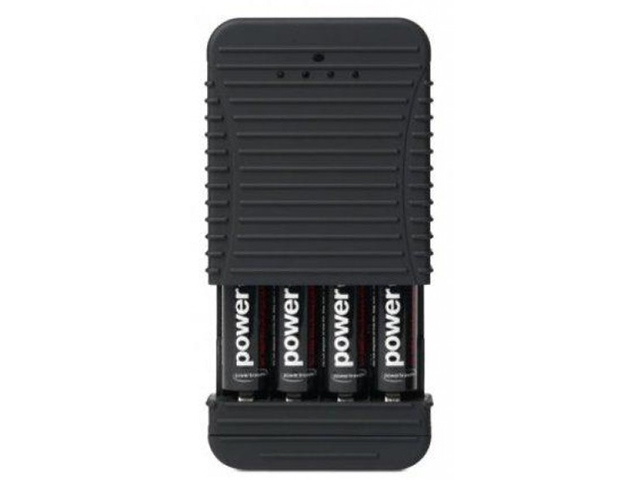 In design and execution, the Powerchimp 4A is simple and easy to use.
Power plays
In terms of how it works though, users simply slide it open to reveal the four battery compartment, in which one can insert four rechargeable penlight batteries, or, using the provided adapters, two AAA rechargeables, or any combination thereof.
These can then be charged by plugging the included microUSB to full USB cable into a notebook, PC, or another of the Powertraveller products, such as one that supports solar charging. Four integrated LEDs (one for each battery) do then show you whether the battery is charging or charged via a flickering or solid light, and thus when it is fully charged and ready for action.
Then, you can elect to remove and use the rechargeable batteries in your GPS, for example. Alternatively, keeping the rechargeable AAA or AA batteries in the enclosure, you can just use the second cable included in the package, a female USB to microUSB, to plug your device of choice into the Powerchimp 4A and allow it to work its magic.
Inconspicuous, but capable
The Powerchimp's casing feels quite solid and up to enduring an inadvertent fall on occasion. In terms of looks, it is largely utilitarian, sporting an all black cover with ridging which covers almost the entirety of the device.
The latter makes it easy to grip and less susceptible to slipping out of sweaty hands. However, it's not-distinguishing looks might make it a little too easy to seem to disappear into the bowels of a backpack, so it would probably best be served by a smaller compartment for quicker identification.
Size wise, it is very compact, being roughly the same size as a pack of cigarettes, and weighing in at a light 76 g without batteries, or 176 with four penlights installed.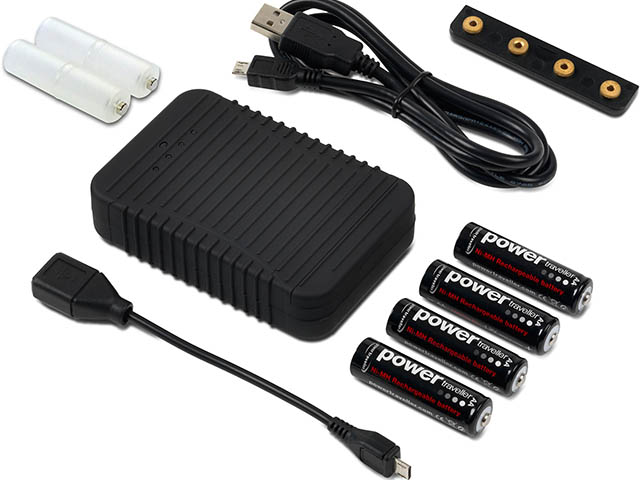 We were particularly pleased to see how much the Powerchimp 4A crams into the box, pretty much everything you need to get started using it right away.
Charging ahead
In terms of charging durations, expect it to take between 3 and 6 hours if you are charging up AAA batteries, or up to ten hours for AA rechargeables according to Powertraveller (in our case, we found it took a little over six hours).
Also somewhat variable is how many number of charges you can expect the batteries to deliver. Naturally the larger and more power hungry the device, the fewer the charges (mainly one) before you will need to plug it in again. For smaller devices, like iPods, you can expect it to offer two recharges when out and about before the batteries run dry.
Granted, this is not a huge amount, but it should be enough for a couple of days hiking or a weekend away in the bush. Alternatively, and not to be underestimated either, it could just give one a bit of a boost in the event of an emergency.
To the point
Overly sophisticated, it may not be, but the Powerchimp 4A dual purpose charger is still a handy gadget that does exactly what it claims to. Like so many mobile rechargeable power solutions, these tend to really come to the fore, and prove their worth, when power runs out - invariably at the most inopportune time.
It is then, in fact, that one can quickly and more evidently see what a lifesaver having such a device on hand can be. To us, the Powerchimp 4A dual purpose charger certainly seemed to fit into this category of device as well. It has a RRP of R600. Call Wintec Solutions on 011-467-2360 for more information.
Small, compact, Fairly rugged, Does exactly what it claims to, All the relevant accessories included in the box
Could be easy to lose or misplace, Only comes with two AAA adapters, rather than four