Over the past couple of years, Symantec, owners of Norton antivirus, has been moving the company in a different direction in trying to break its reputation as a slightly sluggish package.
Since last year's Norton Internet Security 2010 the company introduced a streamlined new user interface (UI) along with useful new tools and most importantly, the software uses much less of your precious processing power to get the job done this time around.
Installation
One of the core aspects that Norton concentrated on with the new iterations was speeding up the package's install time. And we were genuinely impressed with this feature of the program, since instead of going through pages of prompts and agreements, Norton Internet Security 2011 offers a smooth new interface that can be completed in less than a handful of clicks.
From popping the disc into the optical drive to running the program for the first time, less than two minutes had gone by. Users need to register the software to use it, but this is also done blindingly fast. Instead of forcing open your web browser (or more than likely forcing open Internet Explorer instead of your preferred browser) to register on Norton's site, the software comes with a built-in web interface. Simply enter your details, click once or twice and registration is done, no annoying web browsers, no hassles.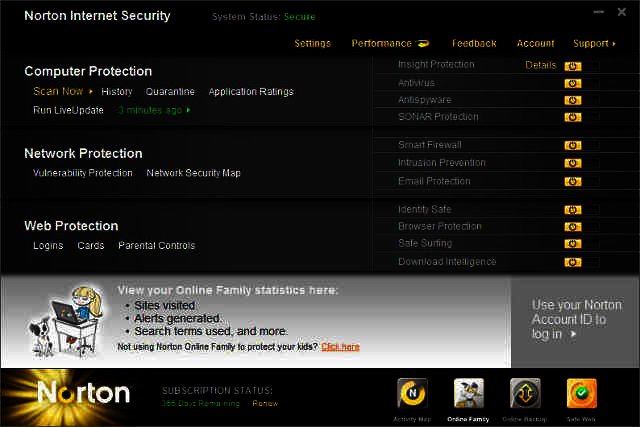 Interface
Norton Internet Security 2011's interface remains largely the same as last year's version, with a couple of changes sprinkled in here and there. The interface sports a darkened theme with yellow text and images (Norton's colour of choice) permeating through here and there. At first glance the interface might seem intimidating, with a slew of options and interactive world map, but once you spend a few minutes with it it's actually really easy to use.
On the left side of the interface the three main security sections are plainly laid out - computer protection, network protection and web protection. Located to the right of each of these categories users will find a series of basic controls which can easily be activated or deactivated. The lists include functionalities such as antispyware, firewall protection, safe surfing and identity protection settings.
Each setting can easily be adjusted via a single click, and when deactivating a certain feature the software will prompt the user asking how long they would like the option to stay disabled, or whether they want it turned off permanently. By default all settings are activated, and except if you know what you're doing we'd recommend keeping them on. Hovering over the names of these settings with your mouse pointer will also cause a small pop-up to appear, explaining what the setting does.
Another nice feature of the new interface is the Norton activity map. This shows a small map of the world covered in flickering yellow dots. Confusing at first, it becomes a novelty once you figure out how to use it as you can click on different parts of the world to see statistics for threats in main cities. Each blinking dot, according to Norton, represents a threat that has just been successfully blocked from infiltrating a Norton armed computer. The map is of little real practical use, but it is a nice little addition. For what it's worth, at the time of this writing Pretoria sported 1605 active threats, Cape Town 2094 threats and Johannesburg was in the lead for SA with 3271 threats, according to Norton.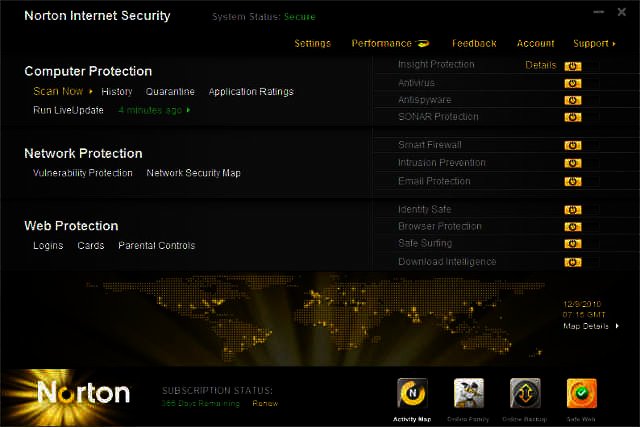 Features
Most of Norton Internet Security 2011's features remain largely standard from previous versions and the basics are the same as most antivirus programs. Users can easily scan their system for viruses, with a full system scan, quick scan and custom scan option, as well as firewall and online protection settings.
A couple of noteworthy features do make their way into the package. The first of these doesn't sport any fancy names, simply referred to as reputation-based security checking. Once Norton is installed on your machine it checks where all your other programs are installed, from where they came and how they were installed, it then compares this data to the 58 million other users participating in Norton Community Watch to determine if any pre-installed programs may be dangerous to your system.
Norton System Insight version 2.0 is also present, this monitors your system resources and warns you if any programs are using an unnecessary amount of memory. By clicking on the 'Performance' button in the upper right part of the interface, the UI flips around with a nice little animation and users can see exactly how System Insight is monitoring their computer. It tells you how much CPU and RAM capacity Norton and other programs are using. It's generally a great tool for system monitoring and much more coherent than Windows Task Manager, although you still need to terminate processes using the Windows option. There is even an application rating functionality which gives you a list of all active processes together with their trust level, community usage and resource usage.
Norton's SONAR (Symantec Online Network for Automatic Response) makes an appearance once again, policing your computer for suspicious software behaviour and automatically carrying out protective actions. Users can now even tell the program to scan their Facebook walls for any malicious links that might have been carried over.
A bootable recovery option is also available equipped with a new feature that automatically creates a CD, DVD or USB-based bootable device. Parental controls are also present so users can check which sites their young ones visited, what search terms they used and what alerts were generated while they were on the computer.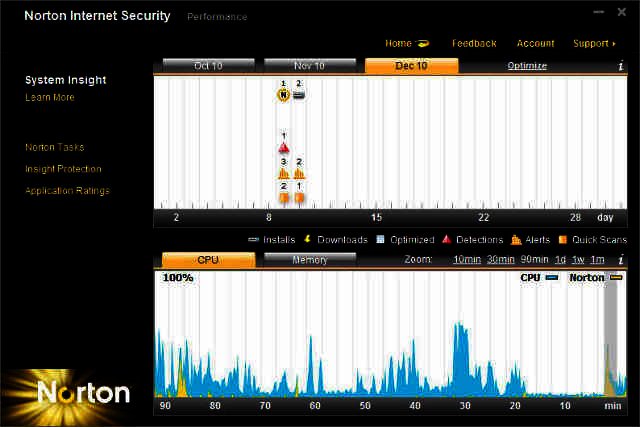 Conclusion
Norton Internet Security 2011 offers users a comprehensive antivirus solutions that keeps them safe from malware, spyware and online threats. The software updates itself automatically, keeps your system clean and uses a minimal amount of system resources. Symantec has really come out in full force to fix Norton's previous issues and so far it's done a stellar job. A three PC license is available for R899.
Greatly reduced performance usage
A bit on the expensive side