The Samsung NX100 is the latest addition to the company's new mirrorless range of cameras, that, much like the Olympus PEN range and Sony's NEX cameras, includes a large size sensor in a smallish body.
As far as looks are concerned the NX100 has a lot more in common with the
Olympus PEN
than its mirrorless stablemate the
NX10
. We complimented the NX10 on its dSLR shape, and although the rangefinder type look of the NX100 will appeal to the design conscious, we liked the workman dSLR-like feel of the NX-10 better.
The stylish body is made of hardened plastic which, with the silver upper and black body, surely looks the part of a well-designed camera. Unfortunately the material used didn't inspire a lot of confidence in its ability to take a knock or two, with especially the flaps feeling flimsy (ditto on the NX10).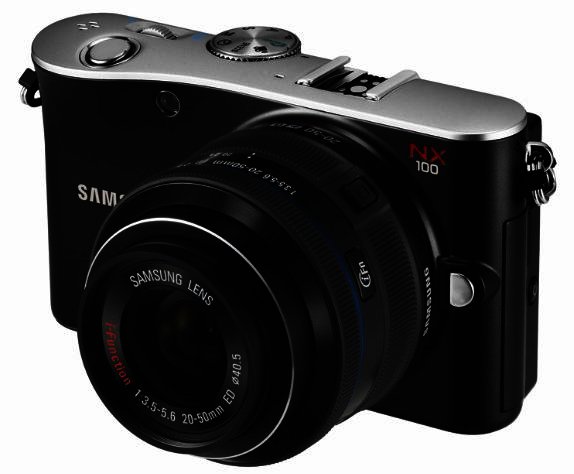 Included on the 20-50 mm equivalent lens (NX-mount) is the new i-Function button, which when pressed allows you to quickly adjust certain settings. In manual mode this gives you quick access to your shutter speed, aperture, ISO and white balance, while using the control ring at the back to actually adjust the settings. As a matter of fact, quick and easy adjusting is one of the NX100's key features, since also included are jog dials found on top and the back of the camera to help with quickly adjusting settings. Despite this it still took a few clicks to adjust the different scene modes buried in the menu structure.
Screen
The NX100's 3" AMOLED screen at the back comes with an above average 614 000 pixels. It's more than the new
Olympus PEN E-PL2
's 460 000 but not as much as its competitor from Sony's side, the
NEX-3
's excellent 920 000.
Manual focus on these mirrorless cameras is usually a hassle since there is no optical viewfinder present. It's usually here where a good resolution on the back screen comes in handy, since it's a lot easier to find the crispest point of focus on a screen with more dots per inch.
Samsung enhances manual focus via the NX100's ability to zooms into the focused area when you touch the lens' focus ring. Once it thinks optimal focus has been reached it zooms back out. It helps a lot, but we would have liked to have seen some focus area parameters on the 20-50 mm lens since it currently just turns and turns, not indicating that you've reached the closest point of focus.
Being digital the screen also automatically shows you exactly how your picture will look once taken. The benefit being that you can play around with your settings and see the exact effect you'll be achieving. Unfortunately the screen is not that quick to relay changes, resulting for example in adjusting exposure only to realise that you've over-adjusted since what you were looking at on screen was still being processed.
The different in-camera Smart Filters. Starting clockwise with the original picture, the vignetting effect, the scetch effect and the halftone dots effect. Click to enlarge.

In-camera effects
We also liked the different in-camera effects available on the NX100, with our favourite being the Smart Filters. Here you can mess about with a number of effects such as soft focus, vignetting, miniature, sketch and halftone dots. It really gets the creative juices flowing without having to know a thing about Photoshop.
Unlike other cameras these can only be applied afterwards and not while you're busy shooting. We don't mind this since you have all your choices available once you're ready to sit down and play around a bit. The effects are applied in-camera, with a new image created along with the original. Unfortunately these effects are not applicable to video.
In playback you also have access to other in-camera editing options, including rotation of the image, resizing, fixing backlight, face retouching, fixing red-eye and different photo styles such as vivid, misty, gloomy and soft.
Although not an effect per se, but rather a mode, the Samsung NX100 allows you to record what they call Sound Pictures. As the name states it's basically a picture with a sound recording accompanying it, but interestingly enough it captures the sound both before and after the picture was taken (five or ten seconds). Unfortunately this sound clip is simply saved as a .WAV file and is not connected to the picture, so when you pull pictures into Picasa for example, there is no way to have the photo and sound on display together.
Video
The NX100's video capabilities is marked at HD-ready 720p recording, equal to what's found on most other mirrorless systems but below the 1080p recording becoming available on a number of compact offerings and dSRLs. We do recommend installing the
April 2011 firmware upgrade
for better performance – it made a discernable difference to video recording, especially on auto-focus during recording.
No Flash
As with Sony's NEX-3 but unlike the new PEN E-PL2 there's no flash present, and although you have strong ISO of up to 6400 in certain modes, it's unfortunately so that you sometimes do need a flash present to help with low-light shooting. Samsung also doesn't make it easy since there is no low-light mode on the mode dial on top, although the intelligent auto mode will most probably revert to a low-light setting.
Conclusion
The 14.6 megapixel Samsung NX100 sure looks the part of a smart camera, and thanks to the mirrorless design comes in a small body. It does not compromise on the ever important sensor size, since you'll find the same size APS-C size CMOS sensor found in dSLRs. The innovative i-Function lens provides easy access to key functionality, allowing the NX100 to find favour in more than the entry-level market. It retails for R6499.
Another test picture taken with the Samsung NX100
Big sensor in small body, nice filters, i-Function lens, easy access to key functionality.
Body feels like it won't be able to take a knock - especially the flaps, no flash.