Lenovo's Yoga 8 tablet is certainly distinctive, but its unique form factor is not the only thing it has going for it.
From the outset, the Yoga Tablet 8 differentiates itself from the competition, if not in function, then certainly in form. The device has a noticeable rounded wedge on the left hand side when held vertically – reminiscent of a paper magazine that has been folded over.
This, in our experience, brought two advantages in particular. Firstly, it made the tablet far easier to grip, a good thing, since the Yoga 8 has a smoothed aluminium finish on the back that otherwise could have been too smooth.
Besides from adding to the tablet's grip, it serves another, more practical purpose – when turned in landscape orientation, you can flip out a handy stand, which aids in propping the tablet up to watch movies. This mitigates against having to buy a purpose built cover for the same end. Worth noting is that its construction is very solid, and its profile at the thinnest edge is a razor thin 4 mm.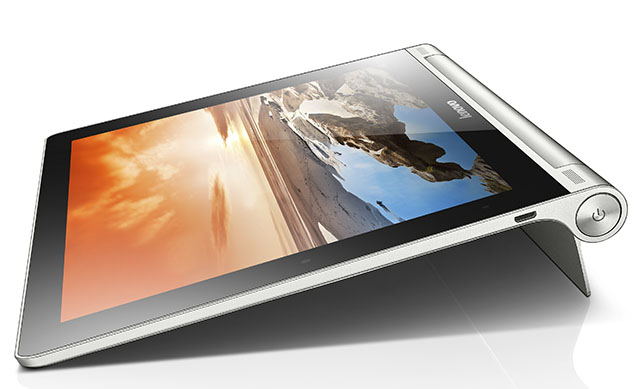 Aside from the obvious movie watching mode, flipping out the integrated kickstand is also useful when typing, to elevate the tablet slightly.
Substance and style
Beyond that, it is largely a standard Android experience, with the company opting for a clean Android as opposed to an embellished user interface. While its 8" display only offers a 1280x800 resolution (189 ppi), which falls far behind that on offer by the new Galaxy Tab 8.4, it looks sharp nonetheless. To its credit, the tablet's speakers are facing towards the user, and the audio is crisp (if lacking in bass).
Nonetheless, this makes watching movies sans headphone that much more doable. Furthermore, the onboard Android 4.4 is well served by the quad-core MediaTek MT8125 processor (clocked at 1.2 GHz) and 1 GB of memory, offering largely zippy performance across the board.
While its storage is a measly 16 GB, at least this can be upgraded via the microSD card slot, while connectivity is taken care of with cellular (3G) as well as Wi-Fi 802.11 b/g/n and Bluetooth 4.0.
Money talks
In some ways, the Yoga 8 has clearly made some compromises to cater for users seeking a midrange price point without offering inferior build quality, but it still all comes together admirably well, particularly if your primary usage of a 8" tablets veers towards movie watching. It is certainly a case of the sum of the parts being more than the components, and, at sub-R4 000, it is well worth consideration.
Interesting form factor, Solid build, Good sound, Affordable price
Middling screen resolution