While keyboards on the whole come in a variety of sizes and hefts, they tend to usually be at least as large as a notebook's base. Thus it's refreshing to see something completely different – a keyboard that has been designed to sit snugly in your hands. The Rii mini i8 does just that, resembling a console controller a bit, with curved sides. These have a slightly rubberized feel to them, which makes gripping the small keyboard a pleasure.
Beyond this, you will find a full (and I do mean full) keyboard, with seemingly no function left behind. As well as the usual QWERTY layout, back, delete, page up and page down, home, search and a dedicated browser button all make it onto the tiny keyboard. Did I mention there are also dedicated media controls, for play/pause, forward, backward and volume up and down?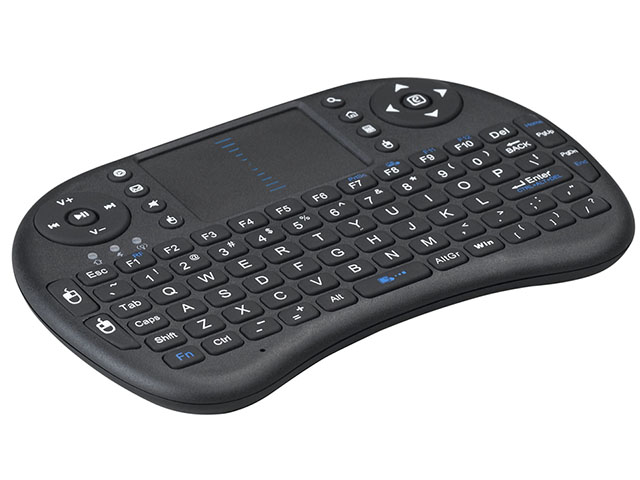 A better mouse trap
In short, the amount of controls that have been squeezed onto the Rii tiny i8 keyboard are commendable. Additionally, there is a very nice backlighting on all keys to boot, as well as a small but usable trackpad above the keyboard itself. This is quite responsive, if not quite as what you find on a dedicated notebook keyboard.
When it comes to mouse functionality, users have two choices. You can either access this on the trackpad, by using one tap for a left click or two taps for a right mouse click. If that doesn't take your fancy you could also use the dedicated left click and right click buttons on the Rii mini i8's far left side.
You can also navigate the mouse cursor via a D-pad, which enables you to move your cursor backwards, forwards, left and right )mimicking the directional keys). All in all, it makes for a familiar keyboard experience, albeit in a much more portable form.
Key essentials
The big difference of course, are the keys themselves, which are considerably smaller, but larger than that found on the physical keyboard found on old BlackBerry phones. If you had no problems compiling missives on those, you will have even less so here, so they are well spaced and have a nice firm and tangible click when pressed.
Thus, I found I made few if any accidental presses. No, my typing experience wasn't quite as fast as I can reach on a large full sized keyboard, but it was still faster than pecking at touch sensitive keys on my smartphone.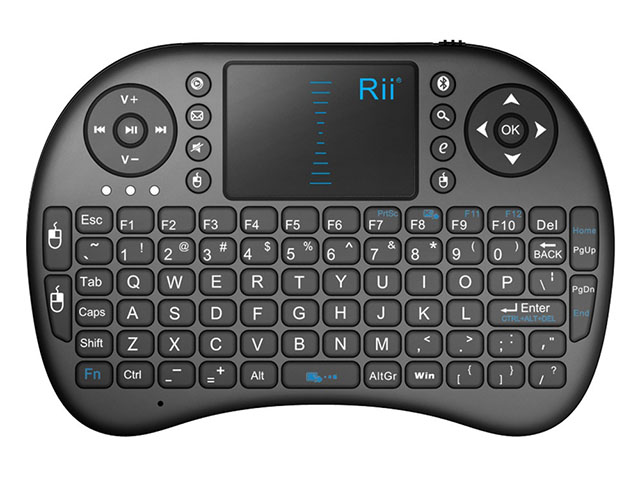 But, who's it for?
So far, and so impressive. The only confusing part of the keyboard is what it works with. The Rii mini i8 (which is rechargeable using microUSB) includes a small dongle that is discretely housed on its underside. Plugging this into a PC, notebook, or some tablets that accommodate a full sized USB stick and pairs the keyboard wirelessly with the keyboard.
Granted, using the keyboard plugged into a notebook is fully feasible, although one would wonder why you would want to do this? Doing it plugged into a tablet makes more sense, especially for those that don't have physical keyboard. Alas, the keyboard does not work without the dongle, which makes using it in conjunction with an iPad or Samsung Galaxy Tablet impossible. Had it connected and paired without hassle using just Bluetooth, it would have had more appeal.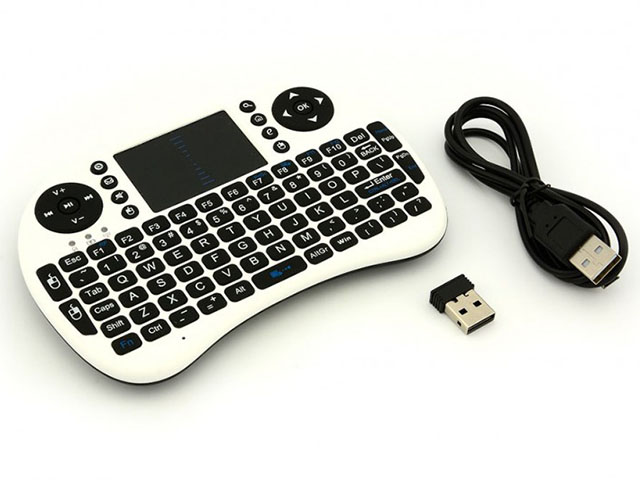 Worthy consolation
However, where it really does shine is in conjunction with consoles (and apparently, Android TV Box and Google TV). I find it offers a much more elegant solution for entering text when using the PS4, PS3 and Xbox One.
After plugging the dongle into an available port, the connection between each of the consoles and the keyboard was instantaneous, and meant I was able to type longer messages, input codes much more elegantly than trying to do the same using the onscreen keyboard. Additionally, thanks to the D-pad on the Rii mini i8, it offered an alternative way to scroll through the user interface and access my choices on each of the aforementioned consoles. This made it my go to keyboard of choice to have close by during gaming sessions.
This alone makes the the Rii mini i8 a nifty and compact peripheral in its own right. It has a RRP of R370.
Compact, Plenty keys and features, Offers more convenient way to input text when paired with consoles
USB dongle precludes its use on non-supported tablets